What is Porsche Wet Mode?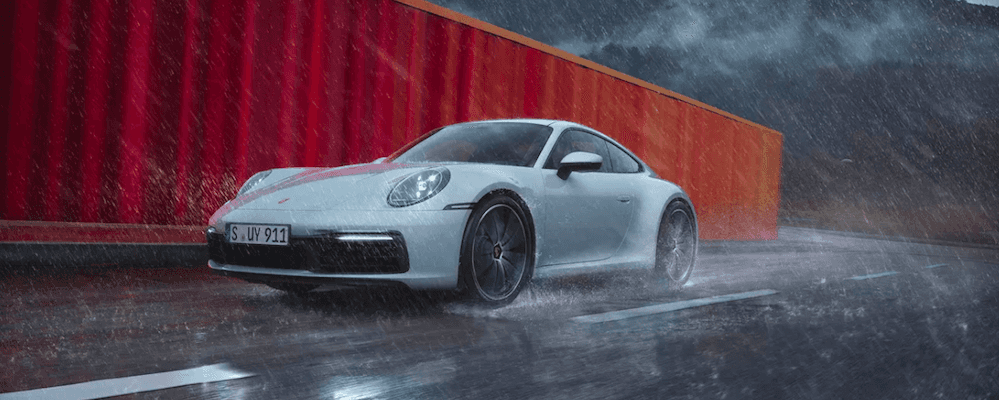 Porsche has always managed to balance the thrill of sports car performance with everyday practicalities that make their vehicles ideal for driving around the Bay Area. This is especially true with the addition of the world-first Porsche Wet Mode, present as standard on all new 911 models. Explore the functions and benefits of this feature, and then pay a visit to Porsche Fremont to see it on one of our in-stock 911 vehicles.
What Does Porsche Wet Mode Do?
Designed to help with hydroplaning, this feature uses acoustic sensors in the front wheel housing that detect water spray. This gives the system the advantage of being able to sense standing water on roadways after a storm has passed. After detecting water on the roadways of Los Gatos, Porsche Wet Mode will take immediate action by alerting the driver and working with other Porsche features to increase traction and driving stability.
How Does Porsche Wet Mode Work?
Once triggered, Porsche Wet Mode activates Porsche Stability Management (PSM), Porsche Traction Management (PTM), adaptive aerodynamics, and optional Porsche Torque Vectoring (PTV) Plus systems, which all play their part in stabilizing your Porsche 911. And, if you're traveling over 55 mph, the following actions will take place:
PSM Off function or Sport mode are disabled
Variable rear spoiler is moved to the performance position
Accelerator pedal delivers flatter performance
Cooling air flaps open
Locking ratios of the electronically-controlled rear differential lock are reduced
Additionally, if you're driving the Porsche 911 Carrera 4S AWD model, extra drive power is transferred to the front axle to boost stabilization.
What Does Porsche Wet Mode Not Do?
Porsche Wet Mode takes a lot of steps to preserve driver control during challenging conditions, but there are a couple of things that the system doesn't do. This feature will not limit top speed or maximum engine power. Meaning that while Porsche Wet Mode can be of great assistance in slick conditions, it isn't there to encourage drivers to drive at high speeds during questionable weather.
Test Drive a Porsche 911 Today in Fremont
Whether it's Menlo Park rain or snow encountered when venturing out of town, the Porsche Wet System helps 911 drivers stay in control. Learn more about the Porsche 911, including colors and pricing, when you visit us at Porsche Fremont.