What Does "Porsche" Mean?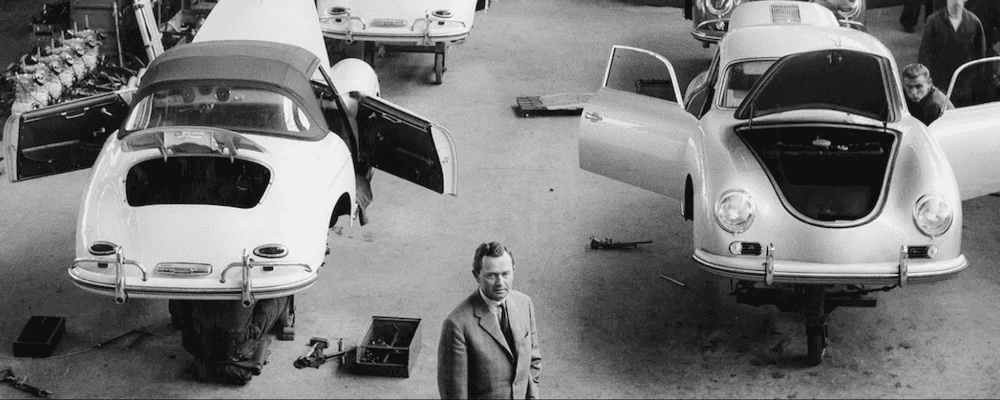 Porsche is recognized not only in the Bay Area but worldwide as a purveyor of high-class and high-performance sports cars. Still, many car enthusiasts are left wondering, "What does Porsche mean?" Find out the Porsche meaning, and learn a little Porsche history along the way with Porsche Fremont near Alameda!
Contact Us Learn How to Properly Pronounce "Porsche"
What Does the Name Mean?
So, what does "Porsche" mean? It's actually the surname of the company's founder, Ferdinand Porsche. Initially, Porsche started as an engineering consulting firm geared towards the automotive industry. It was years before Porsche would start creating vehicles under their own name, with Ferdinand first lending his talents to create other memorable models like the Volkswagen Beetle. In 1948, the first vehicle to officially carry the Porsche name and logo was built. Dubbed the Porsche 356, echoes of this first Porsche can still be found in the styling and design of modern Porsche vehicles.
What is the Full Porsche Company Name?
While you may have thought Porsche was the company's full name, it isn't. It's actually Dr. Ing. h.c. F. Porsche AG. While that may seem like an unusual name for a company known for creating racing cars, the Porsche meaning makes sense when you discover it is the founder's full name and title.
What is the Meaning of Dr. Ing. h.c. F. Porsche AG?
The "Dr." in the beginning naturally stands for "doctor." The less commonly known "Ing. h.c." stands for "Ingenieur honoris causa." Translated into English, it means "Engineer honorary degree." The following "F." is for the founder's first name: Ferdinand. Combine it all, and in English, you have Doctor of Engineering Honorary Degree Ferdinand Porsche. The "AG" tacked on at the end is simply refers to the type of company it is, in the same way as "LLC" or "Corp." do. AG stands for "Aktiengesellschaft," which translates to "shares company." Basically, it means the company is owned by shareholders.
Exciting Porsche Models
While the Porsche meaning may have started with its founder, it has now grown to represent a high-performing luxury auto brand that is known worldwide. If you want to experience what the Porsche name can add to your life in Saratoga, check out these head-turning Porsche models:
Porsche 911- This legendary model offering a seemingly endless number of configurations for you to choose from, and packs a punch under the hood.
Porsche Cayenne- Get the performance of a Porsche blended with the capabilities of an SUV; perfect for families that still want some thrills.
Porsche Taycan- This E-performance Porsche provides the athletic performance you'd expect, coupled with an eco-friendly battery.
While these models just scratch the surface of what the Porsche name means and can offer, they show just how versatile the brand has become.
Learn More About the Porsche Brand at Porsche Fremont
Now that you can answer the question, "What does Porsche mean," learn other interesting facts about the Porsche brand, or simply take a Porsche out for a test drive through the streets of San Jose at Porsche Fremont. Contact us or make the drive to our dealership, located near Los Altos and San Jose, to get answers to how to pronounce Porsche, who owns Porsche now, and more. Our associates are automotive experts who love to talk shop about their favorite automotive brand!