Porsche is synonymous with performance. However, to maintain that level of performance, your vehicle will require Porsche tire maintenance and service. Without getting required tire services, your tires will lose their grip. This will not only impact the way your Porsche handles around the Bay Area, it can also be a safety issue. That's why the Porsche Fremont tire center has put together this guide to Porsche tire maintenance to help you care for your vehicle. Learn more about tire services, and then visit us in Fremont to update your tire maintenance today!
---
Why Choose Us for Porsche Tire Service?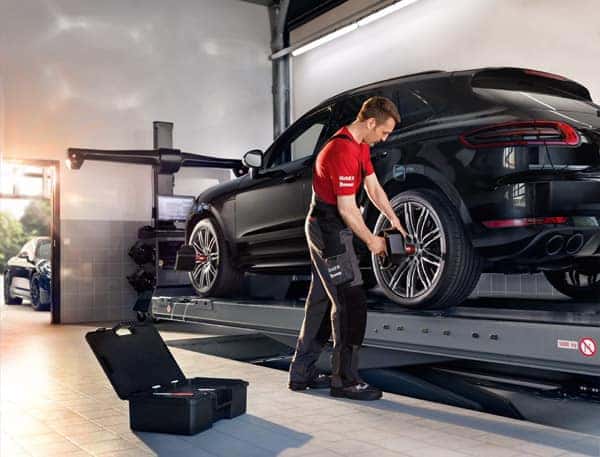 At Porsche Fremont, we carry the N-Specific tires your Porsche needs. Along with using high-quality tires and genuine equipment, our professional technicians are knowledgeable in the Porsche lineup and can provide expert service. In addition, we provide our customers with other benefits that keep us as the go-to for Porsche tire service in the Los Gatos area, like:
Fast turnaround
Complimentary courtesy vehicle
Complimentary shuttle service
Vehicle pick-up and delivery
Checking Your Porsche Tire Pressure
Checking your Porsche tire pressure is one easy task you can perform at home to help maintain your tires. Tires lose pressure with weather changes, usage, and the passage of time. This means even if you avoid a puncture or extreme tire wear, you'll still need your tires topped off from time to time. You can start by checking your tire pressure yourself, or you can ask us to check your tire levels at our Fremont tire center.
Schedule Routine Tire Rotations
Where and how you drive your Porsche, as well as your drivetrain, can cause irregular tire wear. Tire rotations help correct this issue by repositioning tires to create more even wear over time. Preserving your tire treads can impact stopping distance and performance, so regular rotations are important. This is a Porsche tire maintenance task that needs to be performed regularly, but exact intervals will depend on your vehicle. As a rule of thumb, it's recommended you get a tire rotation when you get an oil change, but you'll want to check your owner's manual for specific intervals.
Tire Balancing
Even performance-tuned vehicles can have their tires fall out of balance. Having a tire balancing done on a regular basis will help keep your vehicle running smoothly and prevent additional alignment and suspension issues. When you bring your vehicle in for this Porsche tire service, your wheels will be weighed, and balance will be restored to optimize performance.
Porsche Tire Alignment
Tire alignments aren't a service you need to worry about scheduling on a regular basis. This is a Porsche tire service that's only required periodically when you notice signs like a pulsing steering wheel, pulling, or additional road noise. At this point, seeking a tire alignment is recommended. During your appointment, our technicians will position your tires so they're perpendicular to the road and parallel to each other.
Find Porsche Tire Repair & Replacement Near San Jose
If you find yourself in need of a routine Porsche tire repair or a complete tire replacement and need help finding your tire size, make your way to the Porsche Fremont tire center. When you arrive, our certified technicians can review your service history and tire condition and recommend any tire maintenance or tire repair services needed.
---
View Service Specials