Porsche vehicles are intricate machines that require precision tuning to carry out their legendary performance. Even with their high-quality components and design, over time, it's possible your Porsche will need car repairs to maintain the power and handling you've come to love. With a machine like this, a regular chain car repair shop won't do. Luckily, the experts at Porsche Fremont's service center have the skills and equipment to carry out all necessary Porsche auto repairs. Learn more about luxury car repairs at our Fremont service center below!
---
Advantages of Porsche Repairs at Porsche Fremont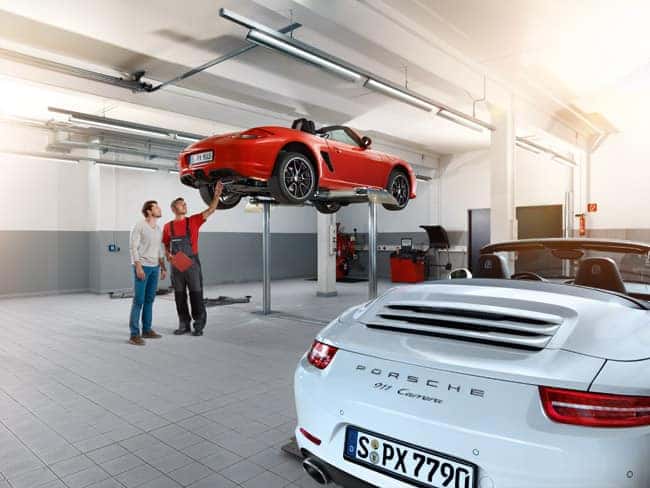 Instead of focusing on a variety of makes and models, our certified mechanics are Porsche experts. Well-acquainted with all Porsche systems and technology, we can perform car repairs effectively all while using Porsche OEM parts. In addition to our knowledgeable team and state-of-the-art equipment, we also provide benefits like:
Fast turnaround
Competitive pricing
Parts backed by warranty
Loaner vehicles
Genuine parts backed by warranty
Porsche PDK Transmission Repair
Unique to Porsche, the Porsche Doppelkupplung (PDK) transmission switches between automatic and manual performance. This allows for both incredible performance and handling around Los Gatos. If this specialized feature begins to have problems, warning signs can include delayed movement, unusual odors, and grinding noises. To avoid vehicle damage or breakdowns, you'll want to schedule Porsche auto repairs right away.
Luxury Suspension Repair
The premium Porsche suspensions provide both safe and smooth rides for Saratoga drivers. To maintain your suspension's character over time, it may require periodic repairs. A rough ride quality, uneven tire wear, and turning issues are all indicators that your suspension is in need of Porsche repair services.
Tire & Wheel Repair
If you find yourself skidding or losing control while traveling the Bay Area, your tires may be to blame. Constant use and friction lead to tire wear, and age and road debris can lead to leaks. If you're concerned about the condition of your tires, our tire center techs can check their condition and recommend the correct tire repairs or replacements. And, if a replacement is required, we carry the recommended tires for your Porsche vehicle.
Battery Testing & Replacement
Avoid getting stranded when out and about in San Jose by ensuring your battery is holding its power. As batteries age, they have a harder time holding a charge. If the charge levels drop too low, you won't be able to start your vehicle. A jump-start can provide an immediate fix, but you'll still require a battery replacement to avoid continued issues.
Brake Replacements
Another component that'll require regular replacements includes the brakes on your Porsche, which are vital to vehicle safety. You'll want to bring your vehicle in for car repairs if you notice a sinking pedal, vibrating during braking, or longer stopping times.
Porsche Classic Car Repairs
With the majority of all Porsche vehicles ever built still on the road, classic luxury car repair is a growing need near Menlo Park. At Porsche Fremont, we have access to the parts needed to repair and preserve your classic Porsche, as well as the expertise required to perform classic car repairs correctly.
Find Porsche Repair Services Near Los Altos!
From regular maintenance to advanced car repairs, Milpitas drivers trust their Porsche to Porsche Fremont. Next time you require Porsche auto repair, schedule an appointment with us!
---
View Service Specials