Meet Nick Schorr, a Porsche Certified Gold Level Technician
In the next installment of our Employee Spotlight Series, we are highlighting Nick Schorr, who takes us through becoming a Porsche Certified Gold Level Service Technician and why he chose Porsche Fremont to grow his career.
The Starting Line
Nick is a Bay Area native – born and raised in Livermore, CA – where he spent his childhood days ripping his bike apart to put it back together and watching his family tinker with cars. He has 22 years of experience working with European & Porsche cars, and the years start at a small German repair shop in Pleasanton after school & during summers. He shares, "I fell in love with the Porsche brand immediately, and I have been working exclusively with the brand for the last 10 years." In that time, Nick has dedicated himself to working his way to a Porsche Certified Gold Level Service Technician with a specialization in diagnostics; additionally, he has become certified with the Porsche Carrera GT, Porsche 918 Spyder and the Electric Porsche Taycan.
Becoming A Porsche Certified Gold Level Technician
Nick shares, "The first step is starting with Porsche, working on different jobs that you log into a service book; eventually, this service book is turned into Porsche and you complete a written exam to become a Porsche Certified Porsche Bronze Level Technician." From there, it is time to attend classes at one of the two Porsche training centers, Atlanta or Southern California, where technicians are challenged to fix Porsche vehicles that have been bugged by Porsche in a designated amount of time as well as complete a written portion. If both portions are passed, technicians earn Porsche Certified Silver Level Technician status; now, to reach Gold, technicians must attend & complete a certain number of classes, including a Customer Communications course, take another written test and go through another round of fixing bugged Porsche vehicles in a designated amount of time. The learning does not stop there; however, Nick will continue to attend classes for new Porsche vehicles and more so.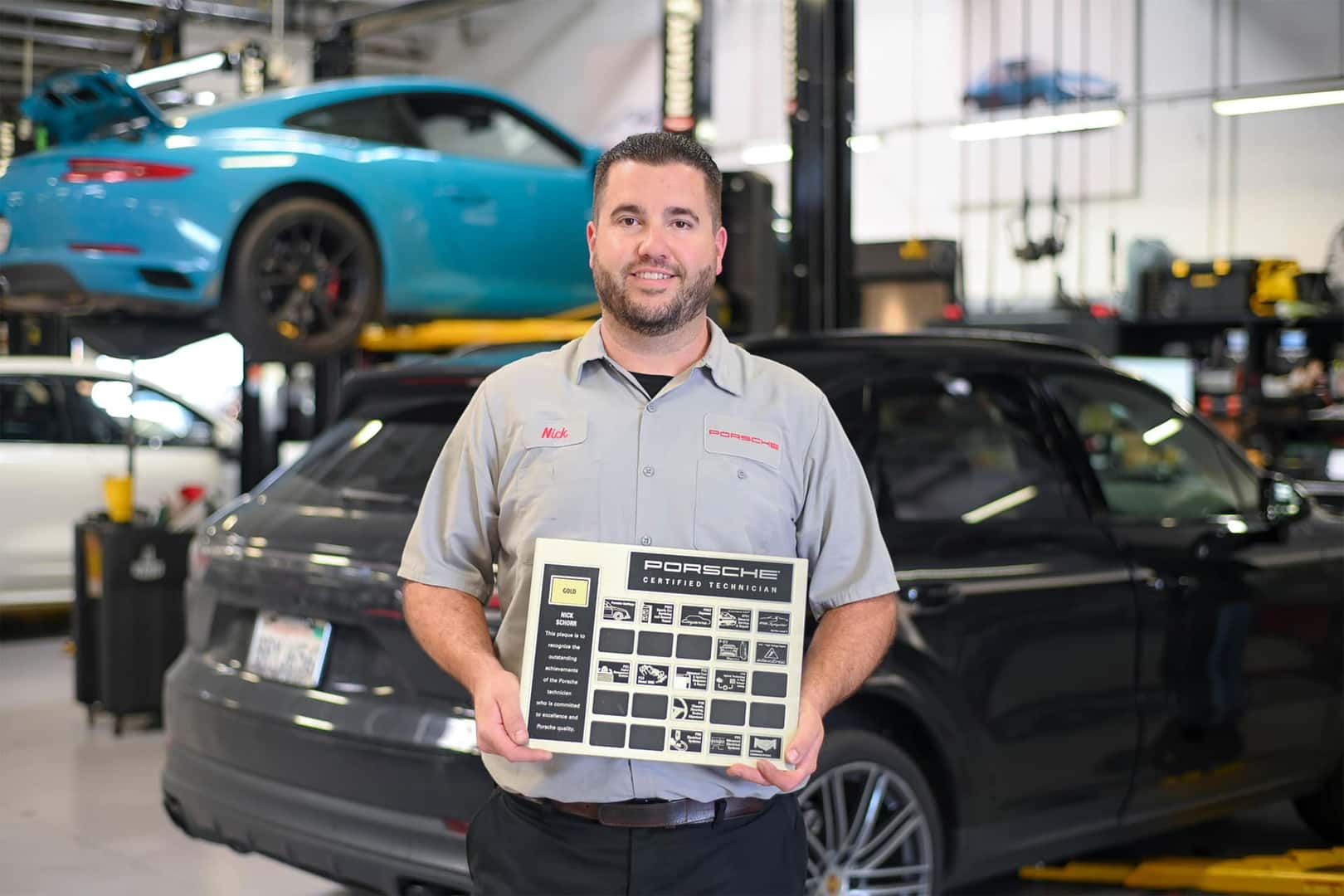 Favorite Class?
"My favorite classes were for the specializations, like the Porsche Carrera GT and the Porsche 918 Spyder. I headed to Atlanta, where I disassembled and put together the Porsche vehicles with an instructor to learn everything about the model."
Why Porsche?
"Porsche presents a challenge. It has to be perfect every time and that is a goal in my own life so it aligns with what I believe in."
Why Fletcher Jones?
For Nick, there lies a multitude of reasons for transitioning to Porsche Fremont, beginning with how "it's a great company to work for, our professionalism is up at the top and our Service Team is stronger than I have seen anywhere else." More than that, Gunter Feldmeier's, Service Director for Porsche Fremont, experience was a leading factor for Nick joining the team.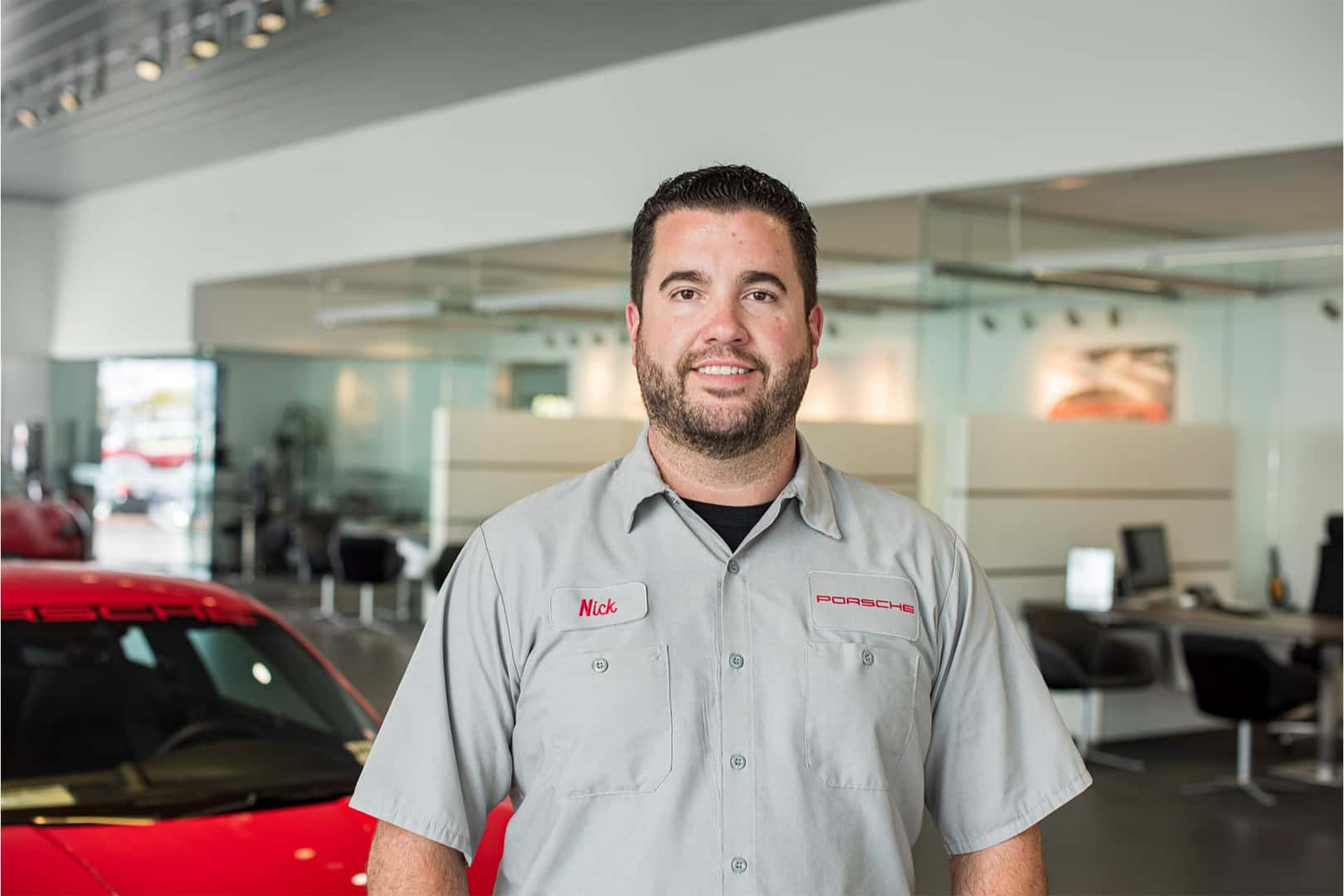 Outside of Work
When Nick is not busy working with Porsche vehicles – or as he says, "The best cars on the planet" – at Porsche Fremont, he is playing a game with his competitive softball league team, camping with friends & family, hiking around the bay area and in summers, you will find him on the lake with his boat.