Employee Spotlight: Michael Heaps
Michael Heaps is one of the newest hires at Fletcher Jones Company and have been the Pre-Owned Sales Manager at Porsche of Fremont for 3 months.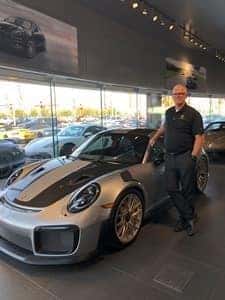 His primary day-to-day role as the sales manager is buying and selling vehicles through multiple wholesale channels, CPO inspections to which not limit to getting the cars on the web and marketed properly, "but [he] also 'desk deals' assist the sales team with any and all help they need with their clientele amongst others." He is a multi-purpose kind of employee as he also does backup finance when needed.
With that said, Mr. Heaps enjoys working with the team over at the Bay Area of Northern California as they have a smaller, tight-knit team, which makes it possible to get involved in all the deals. In fact, he is currently working on a couple of GT3 and GT3 RS deals, "which reminds [him his] favorite vehicle being the 911 GT2RS.
Speaking of the Bay Area, "there are so many world-class golf courses, and the weather is perfect for any and all outdoor activities. It's 45 minutes to the beach, 3 hours to Lake Tahoe for the snow, an hour from San Francisco, 5-hour drive to LA, kind of right in the middle of everything, which is awesome!"
He has been in the business for 19 years, where he started through a mutual friend that was a General Manager at another dealership. He got into this job after leaving his previous career, that being a tugboat captain, because he did not want to be gone from his daughter for a month or two at a time.
Mr. Heaps loves golfing; he spends leisure time practicing and playing. If he could visit somewhere, he'd go to Augusta, Georgia and play at the Augusta National Golf Course. Apart from his passion for golf and career, he loves his 13-year-old daughter Samantha and tries to be involved in her busy schedule with High Comp Softball as much as he could. He wrote a letter for Samantha:
To My "Lil' Puddin Pop:
I have watched you grow from being small enough to fit in my forearm, to the beautiful young lady that you have become!
I am so proud of you and all of your accomplishments so far in your very young life! It is awesome to see your joy when you succeed at whatever you are trying: snowboarding, wakeboarding, softball, volleyball, soccer amongst others. Your determination and drive are definitely great attributes that you received from both your mother and me as we are both very driven to our goals.



"She keeps me motivated every day." -Michael Heaps
I have always said that you are the cuter version of me, and I am still so very proud to be able to say that! But as you have grown and developed into your own persona, I am reminded every day by your actions of your good nature, compassion and your huge heart that we should always aspire to be the better versions of ourselves every single day!
Keep working hard for your dreams, and I have no doubt that you will reach and exceed them all!
Samantha, you are my inspiration and drive.
Thank you for making me a better man,
Dad
What an amazing father he is!
Experience the Fletcher Jones Difference. It's our motto. Come down for a visit and say hi to Michael, or any of our other friendly staff and see why we're different!
Check out our current pre-owned vehicles here! Interested in joining our winning team? Apply here!