2021 Cayenne E-Hybrid Overview
2021 Cayenne E-Hybrid Overview
The Cayenne and Cayenne Coupe: both boast a striking appearance and impressive performance, with up to five seats. Whether you prefer embarking upon your next adventure in the Cayenne together with friends, or fall for the iconic lines of the Coupe, it is purely a matter of personal taste. But one thing also applies to our two biggest models: every Porsche is first and foremost a sports car.
The mix of sustainability and driving dynamics in the Cayenne E-Hybrid brings a smile to any sports car enthusiast. Because they can look forward to hybrid technology from the racetrack – with space for the entire family.
Learn more about the Porsche Cayenne E-Hybrid lineup and shop for yours today.
---
E-Hybrid models.
Our Cayenne E-Hybrid models demonstrate that: we refer to e-mobility as E-Performance, because sustainability coupled with driving dynamics, bring a joyful smile to the faces of sports car enthusiasts.
Special e-driving modes.
In our E-Hybrid models, the mode switch and PCM are used to select driving modes specially designed for their drive. You can unlock the full potential of your Cayenne or Cayenne Coupe at all times.
Charging.
Thanks to an optimally integrated vehicle charge port, practical equipment and sophisticated options for home charging and on the road, we provide innovative mobility through and through.

We take innovative mobility further – beyond the vehicle. With an optimally integrated vehicle charge port, practical equipment and intelligent charging options for at home and on the road.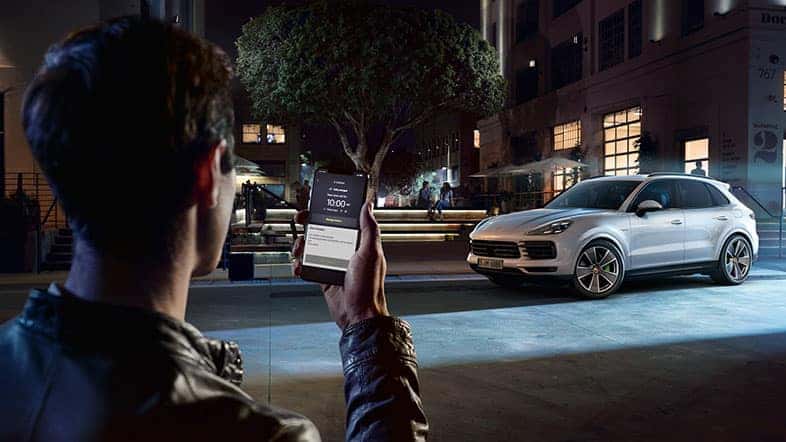 Experience the Future of Porsche at Porsche Fremont
Are you ready to drive the future? Contact us at Porsche Fremont to learn more about this latest Porsche release.